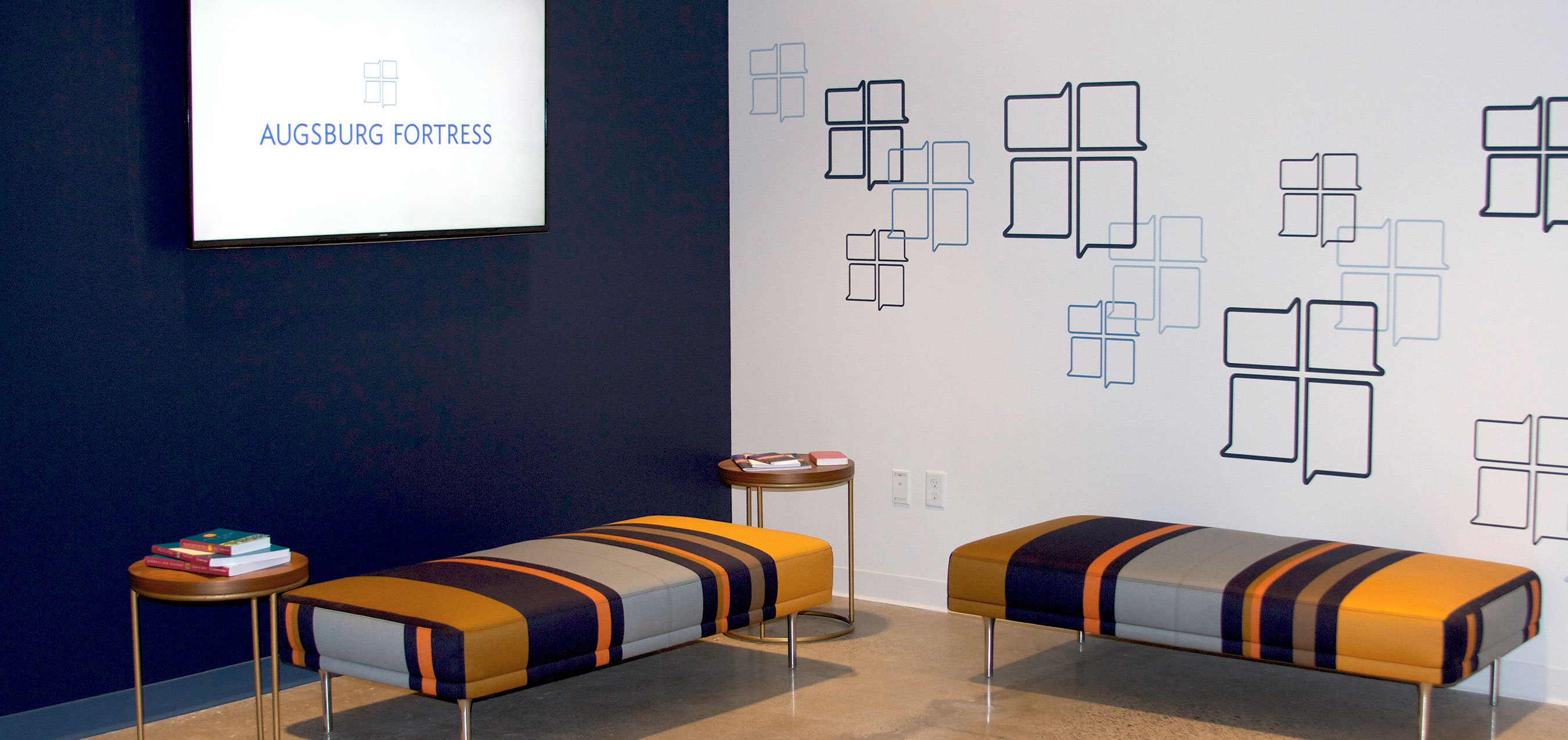 Venerable publishing house Augsburg Fortress was competing with 'super church' publishers – many of whom advocate exclusionary and sometimes bigoted agendas. We were tasked to name and design brands for Augsburg Fortress that used a more inclusive message. Replace also stepped in to brand and design all materials for their internal start up, Spark House, intended to spread faith-based experiences across ages, cultures and denominations. Turning their profits back into charitable good, Spark House practices the "virtuous circle" approach. Today they've grown to nearly half of the AF business portfolio, mostly in interactive and personal media content delivery. Over the past decade, we've co-created and designed dozens of branded initiatives. Replace has been honored to partner with Augsburg Fortress and Spark House to help Improve their joyful conversations in faith.
Where other markets had been lost to EXCLUSIVE faith thinking, AF decided to own the INCLUSIVE side of the expanding conversations of faith. In order to include ALL, the ubiquitous Christian Cross symbol needed to be addressed. This design approach quickly signaled to the larger audience of faith-based publishing that exclusionary practices are out, that no single symbol or dogma defines humanity.
The Challenge: The old concept of 'Bible Study' brings to mind captive teens itching to read anything but – hardly rouses inspiration of spiritual discovery. Replace authored the tagline 'Open the Book, Join the Conversation'. Branding quickly expanded to product design, extensive video production, advertising campaign, rewards program, and interactive design. The Book of Faith redefined bible study for numerous congregations. The bar was raised, and the concept of a dusty Bible was pushed aside for the more inspiring, 'Open the Book, Join the Conversation.'
Connect is an extension of the Holy Moly design language for an older youth target market is the looking for the connection and interpersonal relationships that teenagers need for peer-to-peer growth. Connect takes the design vernacular of Holy Moly and mature's the communication for the teen age market.
Spark House Brand Identity
'Spark House' was founded to attract authors, artists, planners, preachers and educators who compel, create and inspire. The design work of the new Spark House at Augsburg Fortress has earned both critical and market success – even amid marketing challenges and competition with 'Super Church' publishing, Spark House has become established as a center of excellence in the faith-based publishing world.
When Spark House needed to update 'Lectionary Study' there was a lot of traditional dust to blow off. Replace met the challenge to redesign the Lectionary calendar with youth in mind. The new design embraced video discovery, with group-led conversations around the Christian calendar. With colors and age-appropriate illustrations, every day becomes a Whirl.
This perfectly simple icon graces one of the most successful brands in the AF portfolio. Most imagery of Martin Luther is understandably dated. AF challenged Replace to illustrate a Martin Luther to interacts with the target youth market. The spirit of "The Winking Luther" is one of disarming dogma. This lead drives all of the Replace design AF / SH projects. Some of our best relationships begin with a wink.