Thursday, February 13, 2014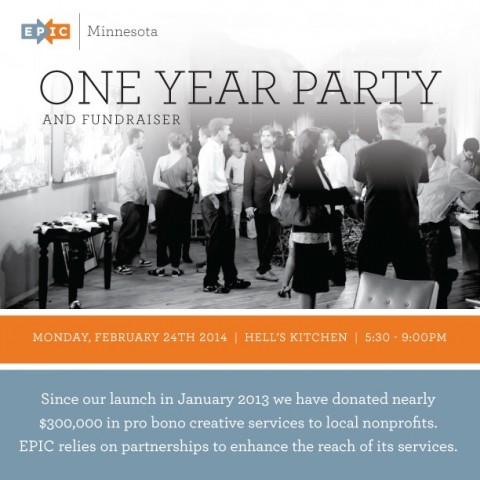 JOIN US Feb 24th for this EPIC event!
EPIC selects teams of top-flight advertising and design professionals and pair them with nonprofit clients dedicated to education, children and families. Over just eight weeks, the teams working on a strictly probono basis and led by an esteemed creative directordevise marketing solutions that their nonprofit clients need. Together, they make a bigger impact on the world than either could alone.
Last January our own Jeff Johnson spoke at the launch of EPIC Minnesota in support of all the work EPIC was setting out to accomplish in the coming years and how important it is to both the creative and nonprofit communities.  Our very own New Business and Project Manager, Haley Kilgour is the Program Director for EPIC MN.
With the help of amazing twin cities volunteer creative talent EPIC has charitably contributed roughly $300,000 in pro bono creative services to local nonprofits over the course of a year–an accomplishment worthy of celebration! At Hell's Kitchen on Monday February 24th we'll gather those volunteers as well as nonprofits and other creatives together in one space to celebrate all their hard work and toast to a successful 2014!